The Bionic Salesman
A Journey around Thailand
The Redshirts came out in force on Sunday. I noticed it first at Ratchathewi, where every third vehicle was a wriggling octopus of scarlet revellers from all the generations.
Children, parents, grandparents all crammed into pick-up trucks so full that their legs dangled off the back. Grannies held up their flags as they stood against the truck cabins. Children sat bewildered or played with their toys. Cars were just as full, with Redshirts sitting in the opened boots, with their legs dangling.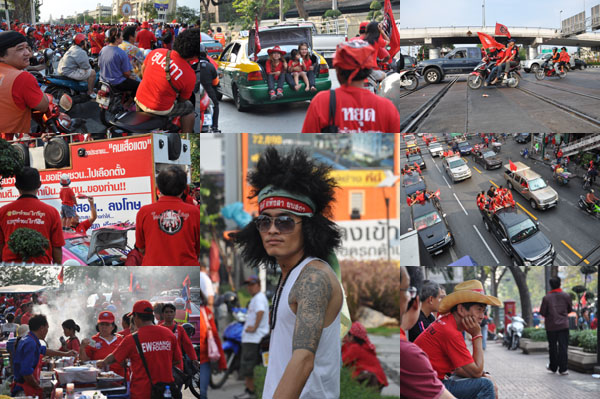 I was on my way to Khao San Road, and it was immediately obvious that shouldn't take a taxi. I walked the full distance from Ratchathewi to Khao San Road, with the traffic beside moving in stops and starts, so that every few minutes I would hear the same blast of music and the same cheers catching me up from behind.
At the Democracy Monument, the traffic dissolved into an enormous street party. This huge swirl of red ants was circulating through musicians, rabble-rousers, noodle stands, sausage stands, hawkers selling the usual junk… bags, T-shirts, DVDs, cigarettes.
At the edges of this swirl, Redshirt families were picnicing on mats or deckchairs, making a day of it.
I tried to work my way through the crowd as fast as I could, but found myself practising the art of walking while standing still. At one point, I thought I was going to have a panic attack.
I can't say anything meaningful about Redshirt politics, but I will say that I was amused by the variety of red shirts the Redshirts were wearing. Aside from the "Truth Today" and "Red in the Land" shirts, there was "Manchester United", "Wendy's Burgers" and "Wikileaks", all in the same red. It must be a broad church.
Khao San Road, backpacker heaven, was as busy as ever. I sat in a cafe looking through the photos I had just taken.
"Ah, you were there!" said the waitress, looking into the screen on the back of my camera.
"Yes, the Redshirts. What were they doing?"
She gave an answer I couldn't understand, but finished with a flourish. "The Redshirts, I like them."
"Oh, you're a Redshirt." said the German at the next table. "Please don't shoot me."
The waitress smiled a thin smile.
I walked around the Khao San Road area for quite a while and finally found (I hope) the ideal place to stock Waboba Balls. It wasn't easy because so much that sells on Khao San Road is fake or shoddy, but I may have found a niche, and there are so many people there who will love the balls.